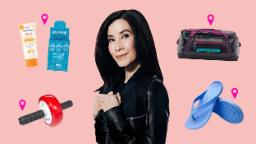 Summer days on the beach are great, but if you're a snow bum, you probably spend most of the year dreaming about one thing, and one thing only… ski season! Whether you're hitting the hill in Aspen or Stowe, Whistler or the Alps, you need to find the best possible ski jacket to keep you warm and dry from sunrise to sundown, because nothing cuts a good run short quite like impending frostbite.
To get you there, we sought answers from those who know powder best — professional skiers. According to Olympic alpine ski racer Paula Moltzan, the first thing you need to understand about ski jackets is that there are basically two categories on the market. "There's insulated and uninsulated," she explains. "Insulated outerwear is great for skiing at the resort while riding chairlifts with just a few light base layers underneath. Uninsulated jackets are great for ski touring or folks who tend to run warm and would rather layer appropriately for their day outside. There's more flexibility with an uninsulated jacket, but you will need to plan your layering appropriately."
How do you know which one is best for you? "The main thing to consider when buying a new ski jacket is the climate where you normally ski," says Ingrid Backstrom, professional skier, ski film producer and co-founder of Safe As Avalanche Clinics. "If it's usually cold and dry (Colorado, Utah, East Coast), you're going to want a layering system, where you can have a jacket with a lining that zips out, or a nice outerwear shell that you can wear an insulating puffy underneath. If you are in the PNW or California or anywhere with more moisture and humidity, the waterproofness of your shell will be the most important thing, with perhaps a thinner insulating layer underneath."
World champion freeskier Kyle Smaine adds when mapping out your ski kit (that's the lingo for "outfit"), "The formula is simple: Base layer, mid-layers, outer layers, and backups if a key piece gets too wet or snow-packed to perform."
Speaking of wetness, we want to avoid it at all costs, which is why waterproof-ness is incredibly important. "There is nothing I value more than staying dry underneath my ski kit on wet days," says Moltzan. "Gore-Tex 3L fabric keeps you dry in the harshest and nastiest of conditions." Olympic skier Kiley McKinnon, who founded the ski gear brand Halfdays, adds, "Usually 10,000mm or above is what you should look for, this way you don't have to worry about being soaking wet when it starts snowing. The biggest mistake that people make when looking to buy a jacket is buying one that is not actually made for skiing," McKinnon says. "For example, a lot of people will buy puffer jackets that are not intended for skiing because they look warm. However, non-ski puffer jackets are actually the least waterproof option because of the material that they usually use and all of the stitching throughout."
Beyond warmth, ski jacket functionality is a chief concern among the pros. "Does the jacket have a ski pass pocket, does the hood fit over a helmet, is the collar high enough to protect my face from the wind, is there a powder skirt (the thing that wraps securely around your waist to keep the snow out)?" says McKinnon. "These are all standard things that most ski jackets should have and also things that will help your overall ski experience."
Next up: Fit. A too-big or too-small jacket is going to curb your mountain experience, and — considering how much lift tickets cost these days, we don't want that to happen. "I prefer jackets to have a bit of a longer length, and that move well with my body," says Hadley Hammer, a big mountain skier, ski mountaineer and writer. "Skiing is a dynamic sport where you're squatting, bending, twisting and turning and I want a jacket that is malleable, moving with me." Another tip: "Don't buy a jacket that's too small," says professional skier Izzy Lynch. "I always try my jacket on with ski pants, my avalanche transceiver and layers underneath, so I know how it will fit and feel when I'm using it."
You're also going to  want to assess durability — after all, these jackets don't come cheap, so you want them to last for years to come. "Skiing and snowboarding can be hard on your clothing, and having a jacket that can last season after season, stand up to the edges of your equipment, and keep you protected against the elements is important. High quality fabrics and zippers are key here," says Hammer.  Adds professional skier and disability access strategist Vasu Sojitra, "Make sure the fabric is rugged. I'm pretty rough on my gear so it's nice to know my jacket will hold up to the trails I put it through."
Last, but not least, is style. While the fashionability of a ski jacket might seem like a less important detail, pretty much every pro we talked to cited it as something they greatly value. Read: You wanna look fresh while shredding the pow! "Dressing in a ski outfit always makes me feel like I'm putting on a costume where I can turn into a superhero on snow, and I love getting to express my insides with what I'm wearing on the outside," says Hammer. "Look good, feel good." Adds steep ski mountaineer Christina Lusti, "I want to feel like what I wear represents me as a person in the mountains. I want to stand out and make a statement while skiing big lines."
With all that in mind, we give you the pros top ski jacket picks for men and women, plus a few of the best choices for kiddos on the mountain this season. Happy trails, skiers!